Last Week in Philly: 10/19 – 10/26 Edition
By YIP Advocacy Committee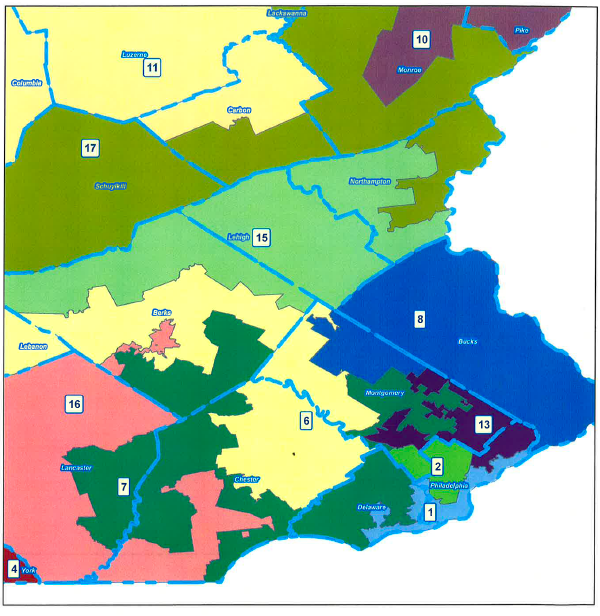 (Southeastern PA's absurdly gerrymandered legislative districts)
Welcome to YIP's Last Week in Philly – a weekly recap of all the vital news stories you might have missed while riding the emotional roller coaster that was the Eagles game this week. Check back every Monday for our recap of last week's most important stories.
[Editor's note: Sorry for taking a week off.  Back to normal posting schedules!]
Education
A Common Pleas judge granted a preliminary injunction against the SRC's suspension of the teachers' contract.  For you non-lawyers: (1) well done not becoming lawyers; (2) this means that the contract stays in place at least temporarily while the lawsuit progresses, but it is not a final ruling.
Gubernatorial candidate Tom Wolf says he would disband the SRC.  Governor Corbett discussed the same issues a week earlier.
Controller Butkovitz says the way that charter school funding is calculated is flawed.  His office claims that the calculation deprives non-charters of funding disproportionately.
Politics
David Thornburgh (name ring a bell?) will move from Fels to being the new CEO at the Committee of Seventy.
The General Assembly declined to extend the hate crimes laws to include LGBT individuals in the protected class.
Want to see gerrymandering at its worst?  It's thanks to people not caring about midterm elections in 2010.  Hey, remind me, what's happening on November 4th?  Oh, right, midterm elections.  Good thing they're not important, amirite?
This whole State Supreme Court Justice drama is pretty messed up!  Who picked these guys, anyway?  Oh… we did.  Yep, judges in PA are elected.  Good times!
Infrastructure
Any updates on SEPTA's smart card system?  Nope.  But they did vote to authorize a strike.  No word yet on when or if any strike will occur.
Could SEPTA go driverless someday?  Councilman Oh thinks that's the system's future, as he looks at having platform screen doors installed.  Going driverless might be helpful if all the drivers are on strike…
Councilman Kenney introduced a bill aimed at increasing the number of historic building designations.  Historic buildings have special protections against alteration and demolition.
Still no word on when Council will begin debating the PGW sale.  But if it is sold, pipe replacement will need to be addressed quickly and in a big way.
Dillworth Park continues its slow-rollout.
Economy
Maybe a new investment will fix Comcast's horrible customer service!  Wait, why are you laughing?
Millennials
The number of Millennials in Philly has been growing for well over a decade.  Seriously, really quickly.  Like a Chia Pet or something.
—
Last Week in Philly is brought to you by the YIP Advocacy Committee. If you want to get in on the fun, email Stephen St.Vincent to join the Advocacy Committee at: stephen dot stvincent at gmail.